Cochran Firm Serving Tulsa and all of Oklahoma.
KEVINN MATTHEWS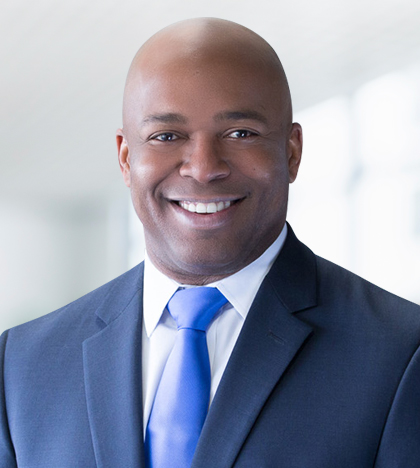 Tulsa native Kevinn (double-n!) Matthews was a natural choice to lead The Cochran Firm's expansion into Oklahoma. Prior to his transition into private practice, Kevinn spent 11 collective years working for companies like Williams Production and Exploration (The Williams Companies) as In-House Counsel, while having prior experience as Litigation Attorney for those less fortunate or hurt. While dubbed as a super-utility player by teammates, his focus on health and safety issues while managing oil field incident litigation made him into a lawyer set on preventing tragedy.
WHY HE CARES
Some industry workers are more likely to be injured or even killed on the job compared to the average worker. Too often, the cause of a tragedy is completely avoidable and the company responsible for this inexcusable negligence rushes to protect itself rather than advance oil field safety and create a safer workplace, one free of new or repeat incidents. When companies fail to put people first, Kevinn fiercely represents victims and their families while sending a forceful message of accountability.
EDUCATION
Cornell University (B.S. in Urban and Regional Studies)
University of Tulsa College of Law (J.D.)
Eric B. Jensen Memorial Scholar
PRACTICE AREAS
Litigation Management
Ethics and Compliance
Real Estate
Corporate Training
Personal Injury Litigation
Commercial Litigation
PROFESSIONAL MEMBERSHIPS
• U.S. District Court for the Northern District of Oklahoma
• Oklahoma Bar Association
• Tulsa County Bar Association
• Oklahoma Association for Justice
AWARDS AND RECOGNITION
Office of Professional Development Service Award; The University of Tulsa College of Law
James C. Lang Mentoring Award; Tulsa County Bar Association
LEGAL EDUCATION PRESENTATIONS
• The Inside/Outside Counsel Relationship - University of Tulsa College of Law Faculty and Alumni Showcase Series, Tulsa County Bar Association Corporate Law Section
• Mitigating and Managing Legal Risks in the Oil and Gas Industry (Incident Preparedness & Response) – Tulsa County Bar Association Energy & Mineral Law Section
ABOUT KEVINN
Kevinn lives as a cooperative, compassionate, and engaged member of his local and global communities. His commitment to social responsibility and service along with a shared responsibility for the environment make him the consummate citizen. Kevinn recently helped lead the launch efforts of the Buck Colbert Franklin Legal Clinic, which provides legal assistance to residents of Tulsa's Greenwood District, just as its namesake did before and after the 1921 Tulsa Race Massacre.
Call for a free consultation: 918-900-2000